17 août 2008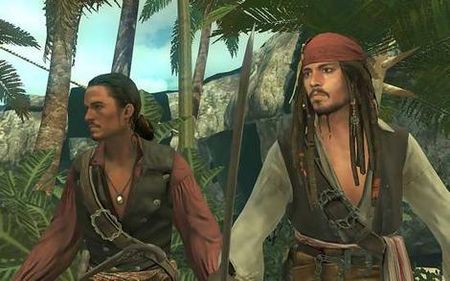 American name: Pirates of the Caribbean: At world's end
Japanese name: Unknown
Type: Action, fighting
Serie: None
Platform: (played on) Wii
North American release date: May 22, 2007
Compagnies: Buena Vista
The stunning success of PoC is the cause of multiple spinoffs and derived products and the revival of pirates. As a great fan, I do own many stuff with pirates logo and when I saw and lightly tried the game, I bought it.
This game was made after the famous box-office hit buster last part of the great trilogy Pirates of the Caribean. You'd expect it to be good, right? Think again.
CHARACTHERS: The characthers all come from the movies of course. You get to play as Jack, Will and Elisabeth. You will also collect all the characthers you happen to meet trough the game for some reason. I didn't play that far. Sometimes you get some extra infos on tge Pirates Lords but nothing much.
WORLDS: You randomly walk into places of the movie, you can't walk back where you were.
STORY: The story starts at the half of the second movie. You start off with Jack trying to break away from prison. The rest of the story is confused and boring.
WEAPONS: You have a sword, some bombs, some daggers and that's that. No upgrades aviable.
PLAYIBILITY: IT SUCKS. IT'S ON FREAKING RANDOM.
MUSIC: It's bad.
VOICE ACTING: It's like the only thing that didn't seem to be bad. Plus, Jonny Deep is cool.
GRAPHICS: No comment. Just the usual.
LIFE: I didn't play enough to tell you accuratly
DIFFICULTY: It wouldn't be a hard game IF IT WASN'T ON RANDOM!!
FINAL BOSS: Never reached
MAPS: Inexistant
OTHERS
None.
AVERAGE SCORE: 0 CALAMITY
CHARACTHERS: 3
WORLDS: 0
STORY: 0
WEAPONERY: 0
PLAYABILTY: 0
MUSIC: 1
VOICE ACTING: 3
GRAPHICS: 5
LIFE: N/A
DIFFICULTY: 0
FINAL BOSS: N/A
MAPS: 0
Commentaires sur Pirates of the Caribbean: At world's end